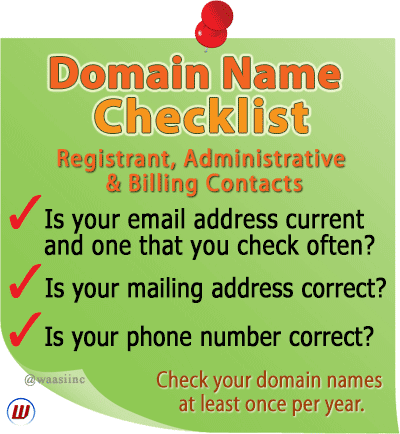 Domain Name Checklist reminder.
Remember to check the Contact information in your domain name's record at your registrar at least once per year to make sure that it's up-to-date. This includes checking your mailing address, phone number, and email address. Never use an email address in your domain's record that you rarely check because it will be used by your registrar to notify you when the renewal date approaches. If your email address is out of date or if it's one that you rarely check, you risk losing your domain name if it expires without your knowledge.

You don't lose time if you renew your domain name early. Renewing early adds an additional year to the current expiration date.

When you register your domain name through WAASI, Inc., we monitor it and will attempt to contact you by phone if it approaches its expiration date and you haven't renewed it.
Laura Smith,
Business Services
© WAASI, Inc.
Last updated: 15th February 2014